Warning
: Use of undefined constant have_posts - assumed 'have_posts' (this will throw an Error in a future version of PHP) in
/data/16/1/13/131/1828783/user/1983499/htdocs/wp-content/themes/bridgesfc/single.php
on line
3
Jeff Roy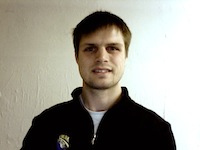 EXECUTIVE DIRECTOR
ASSISTANT COACH

Jeff played soccer at Gordon College from 1998 – 2001.  He received a Bachelor of Arts in Business Administration and Biblical & Theological Studies.  Following college, Jeff pursued a professional career in Benefits Administration for 10 years, gaining valuable business and management skills.
He played semi-professionally with the New England Aztec Soccer Club from 2001 – 2006 in the PASL.  He first found his love for coaching while a member of New England Aztec Soccer Club coaching staff from 2002 – 2009.  During this time he also served as an Assistant Coach at Gordon College for one year, during which the team earning their first ever NCAA tournament bid.
He came to Bridges FC in January of 2011 and serves as the Executive Director, overseeing the day-to-day administration and operation of the club.  He also serves as Assistant Coach.
Jeff lives in Winfield, IL with his wife and 4 children.
Licenses Held: USSF National C License