Warning
: Use of undefined constant have_posts - assumed 'have_posts' (this will throw an Error in a future version of PHP) in
/data/16/1/13/131/1828783/user/1983499/htdocs/wp-content/themes/bridgesfc/single.php
on line
3
Wojcik Settling In Well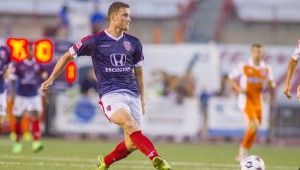 Common ground. It's not always a thing that players and coaches have, but that's certainly not the case for Indy Eleven forward Wojciech Wojcik and interim head coach Tim Regan. As natives of the southside of Chicago—Wojcik of Elmwood Park and Regan of Orland Hills—and graduates of Bradley University in Peoria, the stop in Indianapolis obviously isn't the first time the two have crossed paths … and perhaps it won't be the last either.
The familiarity the two share has played an important role in how "Woj" – as he's know to his teammates and coaches alike – has acclimated to his new surroundings in the Circle City this season.
"I've known Tim for a while now. He was at Bradley a while before me, but when he was working with U.S. Soccer and up in Toronto [FC] he would always travel to Illinois. I remember seeing him at one of my preseason games," Wojcik recollected. "Tim talks to our coach at Bradley (Jim DeRose) as well as Bret Hall at Bridges [FC] all the time, and I do also."
While the goals didn't come in the Spring, his continued effort paid off in more tangible ways when the 20-game grinder that is the Fall Season got underway earlier this month. After notching a goal in the opener at New York on July 5 and following that with an early second-half equalizer six days later at home against Carolina, the freshly-turned 23-year-old is making life difficult for Regan … but only in regards to filling out the lineup sheet.
"His minutes have come from a good level of training, as well as within the team when an injury or two can change the lineup," said Regan. "When a guy gets a chance and wants to take advantage of it, then of course it's going to help, and Woj did that."
"The first goal was definitely good for me to get off of my shoulders," said Wojcik. "Now it's something I look forward to in every game is to put myself in positions to help my team score and win. Scoring is one thing, but we have to defend and make sure they don't score back."
"Last October he was in here for a few weeks, so we got a good up-close look at him," commented Regan. "When it came time to make a decision, we wanted to do it before somebody else got him."
From the beginning of the "Regan Regime" with Indy Eleven in June, the team has played with a different attitude, looking to pick teams apart and be the aggressor on the field. It's a "win every play" mentality personified by Wojcik's intense defensive pressure, whether he's hounding opposing goalkeepers and defenders or tracking back deep to snuff out opposing attacks.
"It all starts in practice, and that's the type of mentality that Tim has been hammering down on all of us," said Wojcik. "Even though it's practice, it ultimately does come down to winning. If you win in practice and pride yourself in winning every time in every game that we have, it becomes second nature and you want to do everything to put yourself in the position to win. If we keep that up in training then it will convert into games."
Read the full article here.