Warning
: Use of undefined constant have_posts - assumed 'have_posts' (this will throw an Error in a future version of PHP) in
/data/16/1/13/131/1828783/user/1983499/htdocs/wp-content/themes/bridgesfc/single.php
on line
3
Wojcik Loaned To OKC Energy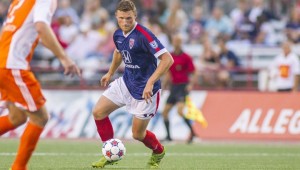 INDIANAPOLIS (Wednesday, May 18, 2016) – Indy Eleven today announced the NASL side has sent forward Wojciech Wojcik on loan to the OKC Energy FC for the remainder of the USL team's 2016 season. Per the loan arrangement, Indy Eleven reserves the right to recall the Bradley University product Wojciech at any point during the season.
"This is a great opportunity to get Wojciech some more game minutes, which is vital for the development of any young player," said Indy Eleven head coach Tim Hankinson. "The flexibility of us being able to bring him back if need be makes it an opportune move for both 'Woj' and the club at this time."
The 23-year-old striker has made one appearance thus far for Indy Eleven in 2016, coming off the bench for a 14-minute stint at the end of the squad's 2-1 comeback win over the New York Cosmos on April 16. In his first season with "Indiana's Team" in 2015, Wojcik scored two goals and added two assists in 1,109 minutes across 21 regular season appearances, including 13 starts.
Original article can be found here.