Warning
: Use of undefined constant have_posts - assumed 'have_posts' (this will throw an Error in a future version of PHP) in
/data/16/1/13/131/1828783/user/1983499/htdocs/wp-content/themes/bridgesfc/single.php
on line
3
Sean Totsch Working Hard at Rochester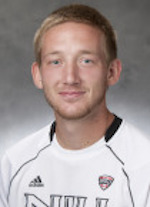 Totsch was a calming presence in the back in Sunday's preseason game against the University at Buffalo. He seemed composed on the ball and was able to not only distribute from defense but also showed the capacity to make smart passes that allowed his teammates opportunity to settle the ball or turn into space.
Totsch sees himself as battling for a starting spot in central defense with the Rhinos in 2015. He said that he's confident with the level of all the guys in camp and that any of them could make an impact with the team if they are ultimately signed.
Sean Totsch is the fifth defender on the roster for the 2015 season, joining returners Pat McMahon, Babacar Diallo, Onua Obasi, and Tony Walls.
To read the entire article about Totsch, click here.