Warning
: Use of undefined constant have_posts - assumed 'have_posts' (this will throw an Error in a future version of PHP) in
/data/16/1/13/131/1828783/user/1983499/htdocs/wp-content/themes/bridgesfc/single.php
on line
3
Sean Totsch Officially Debuts for Rochester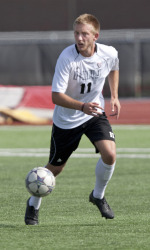 Former Northern Illinois University men's soccer player Sean Totsch (Oswego, Ill./Oswego) made his debut for the Rochester Rhinos this past Saturday in their season opener against New York Red Bulls II. Totsch started and played 61 minutes as the Rhinos played to a scoreless draw with New York at Red Bull Arena.
"It has been a long journey finding a team after graduating but it built character," said Totsch. "I am glad to be in Rochester now, we have a great group of guys and we will do well this year. That start was a long time coming and no better place to do it than Red Bull Arena. I'm thankful to everyone that helped me get where I am today."
"He has good technical ability and passing range. He's a versatile player that plays with an edge who can play in the back or defensive midfield," Rochester head coach Bob Lilley said upon his signing.
To read the rest of the article, click here.