Warning
: Use of undefined constant have_posts - assumed 'have_posts' (this will throw an Error in a future version of PHP) in
/data/16/1/13/131/1828783/user/1983499/htdocs/wp-content/themes/bridgesfc/single.php
on line
3
Neil Hlavaty Lends Experience to Carolina Railhawks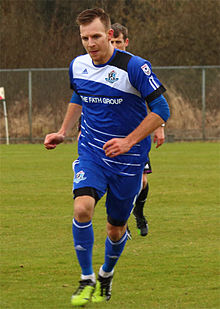 Nine players on this year's roster are new to the club, not counting returning prodigal sons like Austin da Luz and Chris Nurse. One of those newcomers is Neil Hlavaty, a veteran NASL midfielder who sees value in his teammates' maturity as they race to gel as a unit in time for the start of the regular season.
"There's no immaturity in the sense of youth on this team," Hlavaty says. "We have a ton of fun and the locker room's great. But I'm happy about the fact that we're not bringing anyone up for the first time. We don't have to coddle anyone through a situation."
Hlavaty spent the past four seasons with the Minnesota Stars and FC Edmonton.
"I've never played under this coaching staff and this style of play," Hlavaty explains. "They have a reputation of keeping the ball and quick passing and everyone having the ability to play [on the ball], not just the midfielders and a few strikers. We can play out of the back, and can play to anyone because they're good with their feet.
"When you played Carolina before you were afraid they would hurt you with that. And I wanted to be a part of that."
"The thing I think we've brought in [is] everyone's good with their feet but everyone's going to put it in [on defense], which I think in the past here was something you could really take advantage of when you played Carolina," Hlavaty admits. "So the mentality already here in preseason is that we're going to defend and we're going to defend together, and when we have the ball we're going to be great with it."
Click here for the full article.