Warning
: Use of undefined constant have_posts - assumed 'have_posts' (this will throw an Error in a future version of PHP) in
/data/16/1/13/131/1828783/user/1983499/htdocs/wp-content/themes/bridgesfc/single.php
on line
3
In Hollingsworth, Riverhounds could have new star for 2016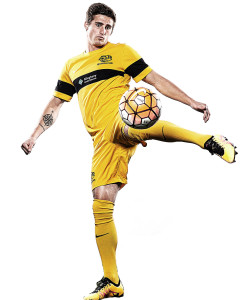 Marshall Hollingsworth's 2016 has been wild so far, to say the least.
Hollingsworth, 22, went from a Division III star at Wheaton (Ill.) to the 41st overall pick in the MLS SuperDraft before Major League Soccer's Columbus Crew loaned the midfielder to the Riverhounds in time for the start of the United Soccer League season.
"I've been in preseason for three months now," Hollingsworth said. "So I'm ready to get some actual points on the board."
And if all that change weren't enough, the Illinois native will likely start as left midfielder in the season opener 7 p.m. Saturday at Highmark Stadium against the Rochester Rhinos.
Rob Vincent had that spot last year — the team's leading scorer with 21 goals who ascended to MLS side D.C. United this season.
But Hollingsworth said he isn't worried about taking the place of the most successful Riverhounds player of 2015.
"I'm different than Rob," he said. "And I can maybe bring something he couldn't."
Hollingsworth, 5 feet 8, 160 pounds, ended his college career with 98 points and 39 goals, including 22 goals his senior year. He said he played mostly in the middle at Wheaton but is happy to play on the left since he would probably be "eaten up" in that spot as a rookie at the professional level.
"Pushing me out wide, I think, plays to my strengths, which are speed, quickness and just my work ethic," he said. "I like swinging the ball in from the left side. And getting into the attack is really fun."
Coach Mark Steffens agreed with Hollingsworth, saying the midfielder "brings a really big work rate" to the team.
"He's just tremendous," Steffens said.
While Hollingsworth will be a new face on the left, the right side of the midfield will still be midfielder Kevin Kerr's territory. Kerr was right behind Vincent with 11 goals last season, and the two often combined to assist each other's goals or create scoring opportunities.
But neither Hollingsworth nor Kerr expect to find that kind of link immediately.