Warning
: Use of undefined constant have_posts - assumed 'have_posts' (this will throw an Error in a future version of PHP) in
/data/16/1/13/131/1828783/user/1983499/htdocs/wp-content/themes/bridgesfc/single.php
on line
3
Hlavaty Scores Against Scorpions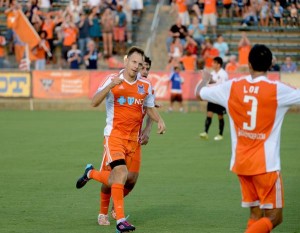 After an uneventful (and sloppy) opening to the match, the offensive floodgates poured open for the RailHawks, who stunned the Scorpions (4-6-4, W-L-T) with a quick couple of goals in the 22nd (Hlavaty) and 24th (Novo) minutes.
In the 22nd minute, Novo launched a beautiful cross that curved precisely to the right boot of Neil Hlavaty, whose one-timer over San Antonio's Jon Kempin gave Carolina the offensive momentum they needed for the remainder of the match. The assist was only Novo's second in 2015, but arguably the most memorable connection Carolina has had all year.
"Kupono gave me a good ball … I made a move and controlled it inside and saw Neil (Hlavaty) and tried pulling the ball for him," Novo said. "It was a fantastic finish."
"Hlavaty worked his socks off on the right side, not his natural position, and got a goal out of it," Clarke said.
Read the full article here.