Warning
: Use of undefined constant have_posts - assumed 'have_posts' (this will throw an Error in a future version of PHP) in
/data/16/1/13/131/1828783/user/1983499/htdocs/wp-content/themes/bridgesfc/single.php
on line
3
Blues Sign 2015 USL Champion Christian Silva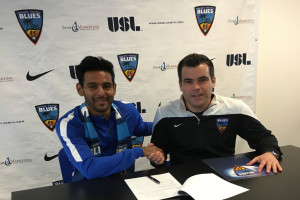 IRVINE, Calif. (February 5, 2016) – Orange County Blues FC is pleased to announce midfielder Christian Silva as the team's latest signing.
Silva joins the Orange County Blues FC after helping the Rochester Rhinos win the 2015 USL Championship in October. Prior to that, Silva had stints in Germany with Hannover 96 and Werder Bremen before moving onto Karlstad BK of the Swedish 2nd division.
"We are very excited that Christian has decided to sign with the OC Blues FC," said Head Coach and General Manager Oliver Wyss. "Having won the USL Championship last season, he will bring a winning mentality that will contribute to our team's success on the field and in the locker room."
The 26-year old originally from Tampa, Florida started his college career at the University of Tampa before transferring to the University of South Florida. Silva finished at USF in 2011, just one season before OC Blues FC defender Brenton Griffiths began playing for the Bulls.
"I'm very excited to join the OC Blues and get a taste of the Western Conference," said Christian Silva. "Seeing first-hand the success we had in Rochester is something I'm determined to replicate here, and take Orange County to a USL Championship."