Warning
: Use of undefined constant have_posts - assumed 'have_posts' (this will throw an Error in a future version of PHP) in
/data/16/1/13/131/1828783/user/1983499/htdocs/wp-content/themes/bridgesfc/single.php
on line
3
Baggio Scores and Assists to Orchestrate Massive Victory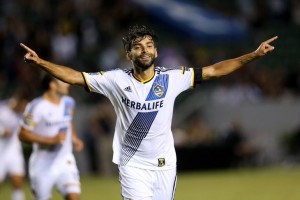 Baggio Husidic scored in the 23rd minute against Philadelphia, a goal that seemingly ignited the defending MLS Cup champions en route to a decisive 5-1 victory in front of a crowd of 23,875.
Husidic, in his second season in Los Angeles after coming over in a free transfer from Swedish side Hammarby IF in November of 2013, looked right at home in scoring his second goal of the season and adding a pair of assists.
"He's played in a lot of spots and is a very good team player," he said. "A very good player."
Husidic said he has welcomed the challenge of playing different positions. He had only two days of training before being asked to play left back in a recent match against Orlando City, but he never complained about the lack of preparation.
"There's never been many games where I've played in the same position, so it's always entertaining," he said. "I think I feel pretty comfortable in many positions at the moment."
"As a player, wherever you're playing that's all that really matters," he said. "If that means I can play every game, I'll play there."
To read the full article, click here.